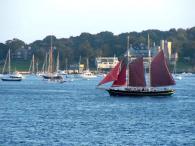 Rhode Island offers urban excitement, rural tranquility, and of course, 400 miles of winding coastline. Located in the heart of New England, with the mountains of New Hampshire and the lights of Manhattan only three hours away, Rhode Islanders have access to leisure opportunities of every description.
Rhode Island boasts miles of sandy beaches, quaint seaside villages, and 2,300 acres of magnificent parks. Rhode Island's distinctive regions range from the historic Blackstone River Valley and College Hill to world-renowned Newport and coastal resorts in South County and Block Island. All within an hour's drive, these regions converge into a four-season adventure with history, sports, extraordinary scenery, and traditional hospitality.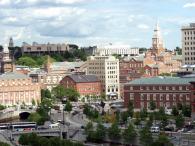 Providence combines the accessibility and friendliness of a small town with the culture and sophistication of a big city. With a thriving arts community, vibrant and diverse neighborhoods, a renowned restaurant scene and so many things to do, Providence is the perfect place to live. Historic and hip, sophisticated and small-town, Providence packs the best of New England into one convenient and colorful package.